Taking a picture from your camera to apply on a Material or sharing your best score with a screenshot of your game are certainly common features many developers want to handle quickly and easily.
MobileKit offers a clean and easy way to open native camera roll, image gallery and share features on iOS & Android devices.
AVAILABLE ON UNITY ASSET STORE
The plugin returns a bitmap file path back to Unity and the share functionality can send a message with a texture and opens a native dialog to choose the desired app according the platform.
---
HOW TO START
First, set your project for mobile build, iOS or Android.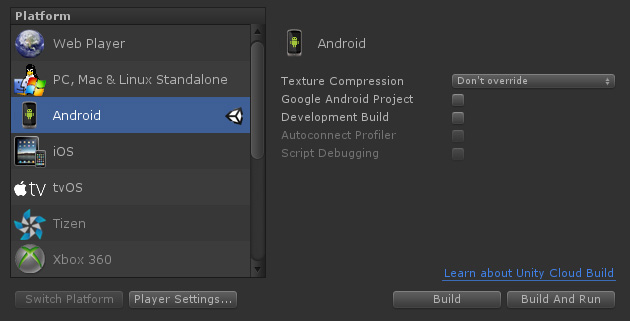 ---
ANDROID
In​ ​order​ ​to​ ​get​ ​the​ ​plugin​ ​compatible​ ​with​ ​all​ ​the​ ​Android​ ​versions​ ​since​ ​4.1,​ ​you​ ​will​ ​need​ ​to​ ​add  Google​ ​JAR/AAR​ ​Resolver​ ​to​ ​your​ ​project.​ ​To​ ​do​ ​that,​ ​you​ ​can​ ​download​ ​the​ ​corresponding  Unity​ ​package​ ​here:​ ​​https://github.com/googlesamples/unity-jar-resolver
Current​ ​Version:​ ​​Play-services-resolver-1.2.59.0.unitypackage
Once​ ​this​ ​package​ ​is​ ​installed​ ​in​ ​your​ ​project, be sure your Android settings looks like this, Assets/Play​ ​Services Resolver/Android​ ​Resolver/Settings :
(I don't like to use Automatic Resolution… it can be quite slow sometimes)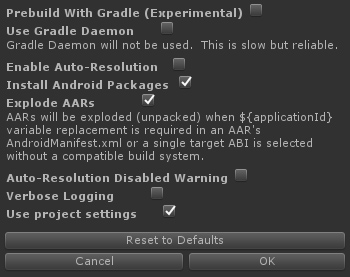 Then, you'll​ ​need​ ​to​ ​call​ ​the​ ​Resolve​ ​method,​ ​from  the​ ​menu:​ ​Assets/Play​ ​Services Resolver/Android​ ​Resolver/Resolve, here: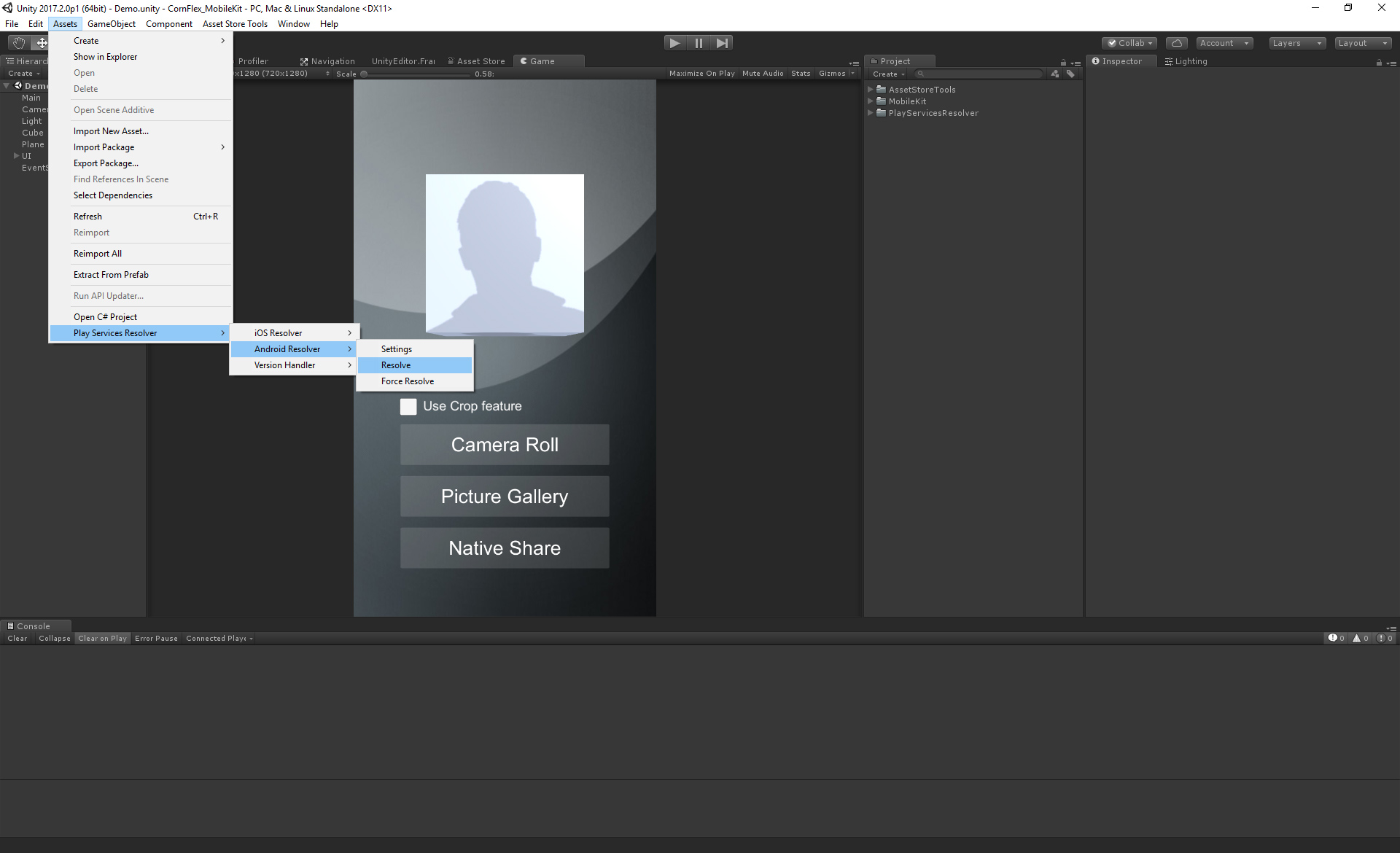 The​ ​Resolver​ ​will​ ​add​ ​the​ ​corresponding  dependencies​ ​from​ ​Android​ ​SDK​ ​to​ ​your project​ ​and​ ​you​ ​should​ ​see​ ​a​ ​new "Plugin/Android"​ ​folder with additional libs: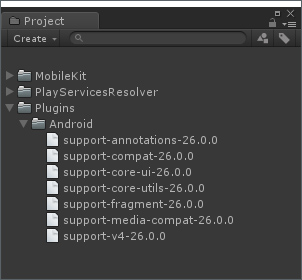 According your Android Build Tools & SDK version, you can change the SDK version of the dependencies in /MobileKit/Editor/MobileKitDependencies.xml (here 26.0.0) before doing a "Resolve".
<?

xml

version

=

"1.0"

encoding

=

"utf-8"

?>

<androidPackage

spec

=

"com.android.support:support-v4:26.0.0"

/>
---
iOS
The iOS library (MobileKit.a) is compiled for iOS 6.0 and above and is automatically packed when your XCode project is generated.
Sinde iOS 10, you must enter Usage Description for Camera and PhotoLibrary access.
You can do it partially under Player Settings or directly inside your info.plist under XCode.
Be sure these 2 entries are set in info.plist before compiling:
NSPhotoLibraryUsageDescription : "Your text"
NSCameraUsageDescription : "YourText"
---
DEMO SCENE
Open the demo scene, set your project for mobile build, Android or iOS, and press Build & Run.
Then take a look at MobileKitDemo.cs, it is quite easy to implement: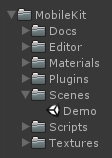 1

2

3

4

5

6

7

8

9

10

11

12

13

14

15

16

17

18

19

20

21

22

23

24

25

26

27

28

29

30

31

32

33

34

35

36

37

38

39

40

41

42

43

44

45

46

47

48

49

50

51

52

53

54

55

56

57

58

59

60

61

62

63

64

65

66

67

68

69

70

71

72

73

74

75

76

77

78

79

80

81

82

83

84

85

86

87

88

89

90

91

92

93

94

95

96

97

98

99

100

101

102

103

104

105

106

107

108

109

110

111

112

113

114

115

116

117

118

using

System

.

Collections

;

public

class

MobileKitDemo

:

MonoBehaviour

public

Button

cameraButton

;

public

Button

galleryButton

;

public

Button

shareButton

;

public

Toggle

cropToggle

;

public

Material

cubeMaterial

;

cameraButton

.

onClick

.

AddListener

(

OnCameraButton

)

;

galleryButton

.

onClick

.

AddListener

(

OnGalleryButton

)

;

shareButton

.

onClick

.

AddListener

(

OnShareButton

)

;

// ******************************************************************************************

// ******************************************************************************************

MobileKitImageFormat

format

=

cropToggle

.

isOn

?

MobileKitImageFormat

.

Cropped

:

MobileKitImageFormat

.

Full

;

MobileKit

.

OpenImagePicker

(

MobileKitAction

.

Camera

,

format

,

OnImagePicked

)

;

MobileKitImageFormat

format

=

cropToggle

.

isOn

?

MobileKitImageFormat

.

Cropped

:

MobileKitImageFormat

.

Full

;

MobileKit

.

OpenImagePicker

(

MobileKitAction

.

Gallery

,

format

,

OnImagePicked

)

;

void

OnImagePicked

(

string

filepath

)

if

(

filepath

.

Contains

(

"http://"

)

||

filepath

.

Contains

(

"https://"

)

)

StartCoroutine

(

LoadFromWWW

(

filepath

)

)

;

Texture2D

tex

=

new

Texture2D

(

200

,

200

)

;

tex

.

LoadImage

(

File

.

ReadAllBytes

(

filepath

)

)

;

cubeMaterial

.

mainTexture

=

tex

;

IEnumerator

LoadFromWWW

(

string

url

)

WWW

imgreq

=

new

WWW

(

url

)

;

Texture2D

tex

=

new

Texture2D

(

200

,

200

)

;

imgreq

.

LoadImageIntoTexture

(

tex

)

;

cubeMaterial

.

mainTexture

=

tex

;

// ******************************************************************************************

// SHARE SCREENSHOT + MESSAGE

// ******************************************************************************************

// share simple text message (with link)

//MobileKit.Share("Share", "Check this out: https://www.quentinlengele.com");

// take screenshot and share it

StartCoroutine

(

TakeScreenShot

(

)

)

;

public

IEnumerator

TakeScreenShot

(

)

yield

return

new

WaitForEndOfFrame

(

)

;

Texture2D

shot

=

new

Texture2D

(

Screen

.

width

,

Screen

.

height

,

TextureFormat

.

RGB24

,

false

)

;

shot

.

ReadPixels

(

new

Rect

(

0

,

0

,

Screen

.

width

,

Screen

.

height

)

,

0

,

0

)

;

byte

[

]

bytes

=

shot

.

EncodeToJPG

(

)

;

string

path

=

Application

.

persistentDataPath

+

"/Screenshot.jpg"

;

File

.

WriteAllBytes

(

path

,

bytes

)

;

MobileKit

.

Share

(

"Share"

,

"Hello World!"

,

path

)

;

// share text message + image

cube

.

Rotate

(

new

Vector3

(

0.3f

,

0.1f

,

0.25f

)

)

;
---
SCREENSHOTS